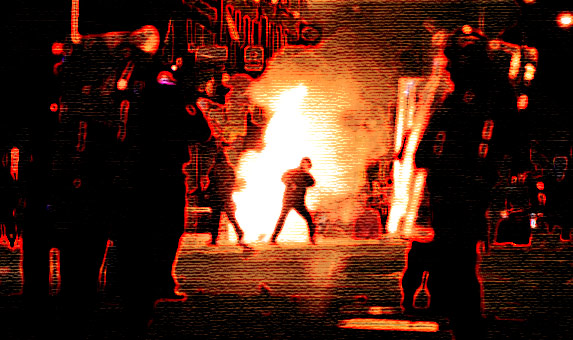 Burnt out heart
Of a man that's been broken
Burnt out shell
Of his shop that's been torched
Broken dreams
And the Devil's awoken
Burnt out Soul
Of a city that's been scorched
Bankers bask
While counting their bonus
Hit the poor
As their profits still soar
Take your lead
From those fat cats so greedy
No surprise
That the young loot and steal?
Police hold back
Watching vandals burn buildings
Lives are lost
As folk defend their shops
Broken father
Whose son has been taken
Surely God
This is a mistake?
Newsprint screams
We're the voice of your nation
Hacking phones
On an industrial scale
Any ploy
Just to up circulation
Cash in hand
And policemen for sale
Leaders preach
Fine words to woo voters
But the reins of power
Turn our politicians sour
Looters loot
But MPs fiddle expenses
Still they preach:
Come take down all your fences!
Broken heart
Of a mum whose son's been looting
Empty shell
Of a shop that's been robbed
Burnt out hope
A community's forsaken
No surprise
That the young loot and steal
Surely now
Your compassion's awoken?
Hear the voice
Of the ones who have spoken
We are the same
We're all able to be greedy
But when we are
We'll just starve and feel needy
But when we are
We'll just steal and burn out
No surprise
That the young loot and steal