For the past 17 months and 6 days, Greg had been living like a zombie. Today he sat, bag-eyed, bleary and oblivious, two-thirds the way across Golden Gate Bridge. As usual, his car was motionless in the morning traffic, a fact which only served to amplify his overriding sense of inertia and despair.
Greg's routine was pretty much the same each day: 8am-5pm was over-filled with exhausting work, eat, fall asleep in front of the plasma, then a night of fitful, non-refreshing sleep, punctuated by sweaty, anxiety-filled dreams. Next, fall out of bed at 6:15am, groggy and leaden, take a shower, dress, consume over-sweetened coffee and syrup-laden waffles. Exit the house, then perform a slow, uncoordinated lunge into his car, optionally running back to the house to collect his forgotten paper-stuffed messenger bag, then finally hit the road in frustrated earnest, ready to join the daily crawl into work.
Go back 18 months, and despite the long queues and crowd-sourced road-rage, Greg would have appreciated the glistening bay far below him, as well as the stark, industrial beauty of the bridge's famous red (not gold) suspension towers, which reached hundreds of feet above into a clear blue sky, then stooped down like giant metal monsters from some 50s b-movie, ready to swipe the tiny cars off the bridge and send their occupants screaming to their deaths in the icy bay below.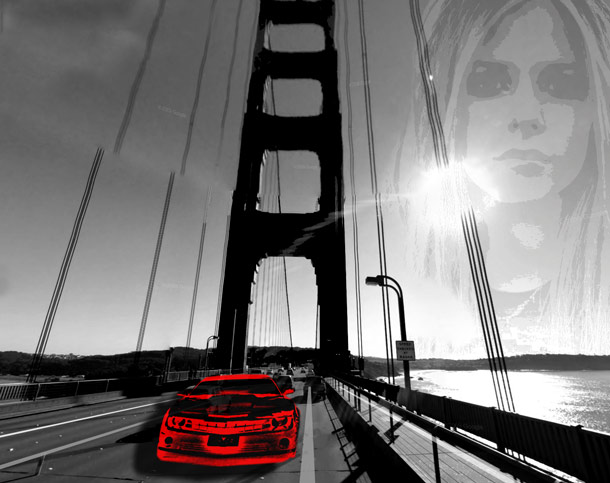 These days, however, nothing much penetrated Greg's fugue-like state. His previous, happy life, was a distant memory. His mind was elsewhere, immersed in a private hell.
In the background, Greg's car radio was tuned to KLIV-1509, a barely palatable combination of traffic reports and deliberately annoying jingles set to mind-numbing "sponsor" slogans.
"Come visit us. We've got loads of cars". As if the answer to all this congestion, pollution and road accidents was more cars.
"How's our traffic moving in the South Bay, Ed? " queried the anchorman.
"Problems, problems, problems, Joe – multiple accidents and slow spots are clogging up your South Bay highways today…" came the reply.
"… a car hit a tanker truck early this morning causing a fuel spill over at San Jose" he continued, "the Alum Rock Avenue offramp from Northbound 101 is still shut down and looks to be that way for several hours while crews clean up… back to you, Joe"
Greg kept the radio on for a reason. Since his daughter disappeared nearly 18 months ago, there had been no trace of her. Having satisfied themselves early on that Greg himself was not implicated, the police suspected Katie had been abducted and probably murdered, but as the many lines of enquiry slowly dried up, the deputy Sheriff had allowed the case to gradually go cold.  Greg, of course, could never give up, and maintained a listening, searching and watching vigil, hoping desperately for some kind of lead.
In his search for Katie he'd gone deep into the shady recesses of San Francisco's night scene, befriending a call-girl named Candy, a drug addict yes, but generally a good person. He became Candy's client and even found some sort of solace. She was very understanding. He hoped she might somehow lead him to Katie, but did not know how this might happen.
The only lead Candy offered was a link to a YouTube video, after he told her about the used Camaro he'd bought Katie for her 17th birthday, 3 weeks before her disappearance.
The video featured a black Camaro convertible driven not by Katie, but by an exuberant male, probably high on drugs, gesticulating to the camera, Mexican rap blaring on the in-car stereo. He thought he knew the face but he was not sure. The person holding the camera swung it around briefly towards herself, but before her face came into full view, the clip abruptly ended. It could have been Katie, but the police would not pursue the lead, and Greg's own investigations failed to reveal any traceable id of the user who'd posted.
That was a year ago. Since then nothing had moved, rather like the traffic.
Now, the intense low sun cast long, dramatic shadows of the bridge's twin monsters, reaching almost the entire length of the congested and irascible slice of suspended tarmac.
On a random impulse, Greg stabbed a preset on the radio and switched over to KFOG, a rock station. Avril Lavigne was singing "nana, na nana nana, oh it's so sad, I hope you can hear me, I remember it clearly, the day you slipped away, was the day I found it won't be the same…"
Greg started to crumble – the lyrics simply too close to the bone. When Katie'd gone missing, she resembled Lavigne, with her straightened mousey-brown hair, skater-boi pout, and intense blue eyes. Similar age too.
Unable to listen, he flipped to yet another station. This time, a more considered, in-depth news channel. The female anchor was talking about the Northbound 101 tanker truck collision.
"…according to witnesses, a Santa Clara County police patrol vehicle had been chasing the driver at high speed when the car smashed into the tanker. The car driver was killed instantly, while a female passenger was seriously injured and taken to the Regional Medical Center. The truck driver escaped unhurt. The crash occurred after 6:15am on the 1400 block of East Santa Clara Street."
The anchorwoman continued, raising concerns about the validity of police tactics and the apparent lack of justification for the chase:-
"the Sheriff's Department received calls of a driver doing donuts. On arrival at the scene, they saw a black Camaro convertible leaving at a high rate of speed. The collision occurred a short time later.
Greg stiffened. Could it be? Could that be Katies car? And was she the female passenger?
He needed to get off the bridge and down to the Regional Medical Center. He knew they would never ID Katie over his cell phone.
He put his foot down, but it went through the floor. Everything was suddenly pitched into darkness – a dense black cloud eclipsed the sun, car headlamps blinked on and Golden Gate Bridge lit up like a Christmas tree. Meanwhile, to his left, the counterflow morphed into a procession of black Camaro convertibles, hoods down, each one heaving with Katie's rowdy, partying friends…
Greg woke up with a start. He glanced at the clock-radio. Shit. He'd overslept again. Gonna be late for work.
He leapt out of bed and into the shower. The warm jets of water pounding his head were not loud enough to drown out the Mexican rap coming through the open window. The music stopped abruptly and moments later, the front door slammed. Footsteps thudded up the stairs.
Waist-towelled, he exited the shower room and came face-to-face with Katie, who was very much the worse for wear and clearly had not slept anytime recently.
"Where the heck have you been!?" he blasted.
"None of your business. Just chill out Dad, Ok?" With that, Katie fell into her room and slammed the door, returning for the first time in 3 full days to the garbage dump that used to be her bedroom.
It was a familiar pattern, ever since Katie's mum had left home almost 18 months ago, to go live with her former boss-cum-adulterer. Greg threw on some clothes, headed out onto the driveway, past Katie's rusty old ford, and jumped into his own car, then cursed as he rushed back immediately to grab his bloated messenger bag.
Finally he hit the road, tuning the radio to find out just how manic his journey was likely to be. "…got some really great deals for KLIV 1509 listeners, stayed tuned for a really special deal on this weeks dream-car, the fantastic Camaro convertible in black…"
He turned the radio off.